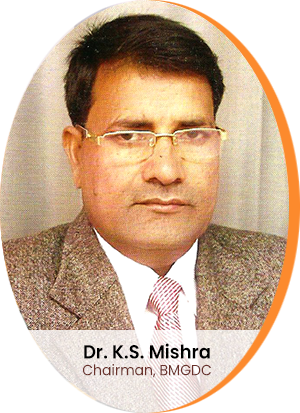 Dr.K.S Mishra
(Chairman)
Basudev Memorial Girls Degree College
+91-9450452289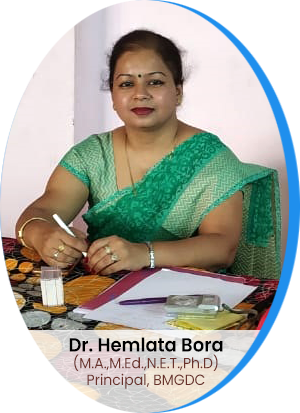 "To empower young women as valuable assets of Global Society by providing them Quality Higher Education enabling them to develophigh intellectual level with spiritual, cultural and Ethical values"
Dear Students,
Basudev Memorial Girls Degree College family extends a hearty welcome to all the academic aspirants for a truly bright and successful future.Ours is a women college aimed at empowering women through quality education. Woman, the builder and moulder of a nations destiny, though delicate as a flower has a heart stronger and bolder than that of shell of a seed. She is the supreme inspiration for man's onward march.
Educating a girl child is like sowing the seed, which gives rise to green, cheerful and full grown family plant. She brings out the best of virtues among the youth for benefit of the family, society and for the country as a whole. The prerequisite to complete education is therefore, the full development of consciousness leading to enlightenment. Knowledge is not the basis of enlightenment. Enlightenment is the basis of knowledge. Knowledge acquired through education is the greatest power one possesses. Nothing great was ever achieved without it. It is worth mentioning that the new courses are being introduced every year to offer a holistic choice of avenues for the students to explore and discover their inherent potential towards realization of their ambitions dreams.
With the advent of cultural and academic developments, a potential progress of Indian women has been felt necessary since "Progress of a Mother is the Progress of Nation". It is always required by the women mass to impart primary education to humankind right from her home; else no humankind can be expected to excel in this universe. Thus, she deserves progress.
Basudev Memorial Girls Degree College also came forward to meet another important challenge, i.e. education of rural girls. Situated at the outside of the Lucknow city the college is not only an easy access to rural village girls aspiring for higher education, but it is also a place which the Indian rural girls and their parents find it safe and secure, disciplined and up to the quality.
So with the expectation that the students admitted to this college, shall be in healthy interaction with fellow students, and respectful to the teachers and other staff, the college extends all its facilities of Classrooms, Laboratories, Library, Scholarships, Innovative Devices, and computer courses to all sections of community. We hope the college would be providing a memorable experience of learning and sharing that may be beneficial for life.
I, on behalf of the managing society ensure that the college will grow further to earn excellence to be recognized globally.
My best wishes to the students, faculty members and the supporting staff for their support in achieving the goal of empowered women.
Dr. Hemlata Bora
Principal
(M.A.,M.Ed.,N.E.T.,Ph.D)
Mobile No. – +91-7755075615